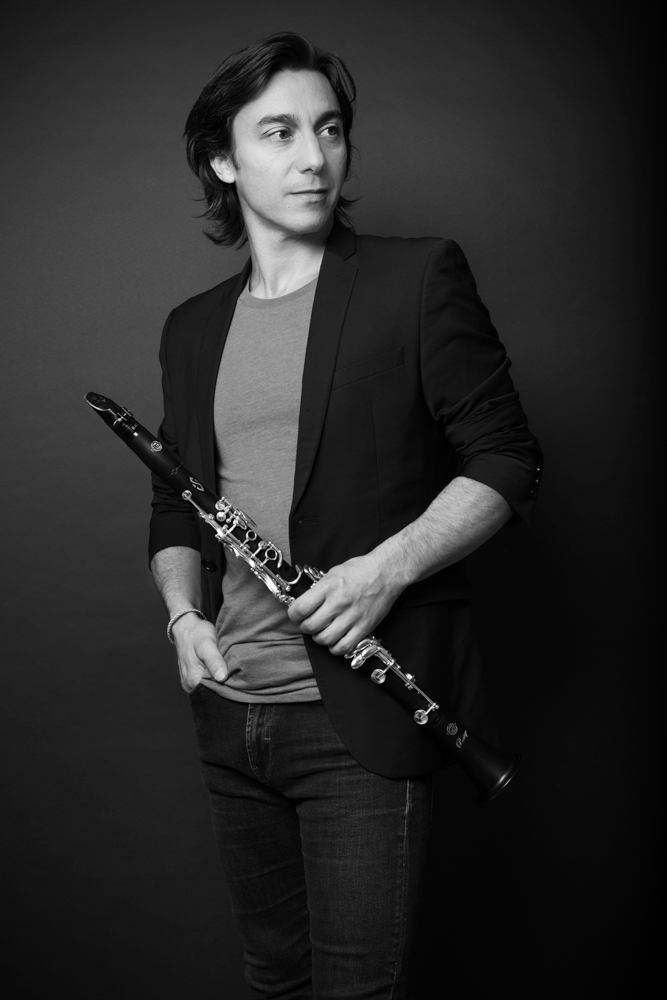 Biographie
Clarinettiste, compositeur, chef d'orchestre et producteur, Forent Pujuila est un artiste iconoclaste et reconnu pour son excellence dans ces multiples domaines. Chercheur passionné, c'est en interrogeant les codes et les frontières qu'il ne cesse de construire avec audace et sincérité son propre langage.
Lauréat de plusieurs concours internationaux dont le prestigieux A.R.D de Munich, clarinettiste solo de l'Orchestre de Chambre de Paris et partenaire de jeu de François Salque, Victor Julien-Laferrière, François-Frédéric Guy, Romain Descharmes, Pierre Fouchenneret, Sarah et Déborah Nemtanu, les quatuors Strada ou Voce, il a également collaboré avec des compositeurs de renom tels que Pierre Boulez, Luciano Berio, Giorgi Kurtag, Nicolas Bacri ou encore Thierry Escaich.
Sur la scène jazz, c'est avec Vincent Peirani, Jacques Di Donato, Madou Sidiki Diabate qu'il se produit. En 2012 il crée le Pujuila Quartet entouré d'Eric Echampard, Fabrice Martinez et Bruno Chevillon, et en 2016 rejoint le Samuel Strouk Quintet.
En tant que chef d'orchestre, Florent Pujuila a notamment dirigé l'Orchestre de Chambre de Paris et l'Orchestre traditionnel de musique palestinienne.
En 2012, il crée le Festival et l'Académie des Musiques dels Monts qui rassemblent des musiciens et compositeurs de courants esthétiques différents, décloisonnant les genres et instaurant une nouvelle forme de dialogue entre artistes, créateurs, élèves et public.
Florent Pujuila, qui intègre le collectif Totem en 2017, est soutenu dans ses projets par Génération Spedidam, Henri Selmer Paris & Vandoren.
Biography
Florent Pujuila, principal clarinetist of the Paris Chamber Orchestra, appointed « Génération Spedidam » in 2017, feels equally at home in jazz and classical music, alternating from one to the other with incredible ease.
Winner of several international competitions, including the prestigious Munich A.R.D prize, Florent Pujuila is a multi-faceted musician. His passion for chamber music allows him to share the stage with performers like François Salque, Pierre Fouchenneret, Roland Pidoux, Romain Descharmes, Laure Favre-Kahn, Yovan Markovitch, Deborah Nemtanu, Eric Le Sage and other well established ensembles like the Strada and Voce quartets.
The Paris Champs-Elysées Theater, the Munich Herkulessaal and the Berlin Konzerthaus are just some of the prestigious halls he has played in.
Florent Pujuila also regularly accepts requests to compose chamber music and mixed ensemble works. He has collaborated with renowned composers like Pierre Boulez, Luciano Berio, Giorgi Kurtag, Nicolas Bacri and Thierry Escaich.
As a conductor, Florent has enjoyed the opportunity to work with several orchestras, including the Paris Chamber Orchestra, and the Palestinian Traditional Music Orchestra for one of his composition's premiere.
Vincent Peirani, Jacques Di Donato, Bernard Lubat and Beñat Achiary are his jazz and improvised music partners. Florent gives life to his creations with ensembles like the Pujuila Quartet and Samuel Strouk Quintet. He is the artistic director of the Festival and Academy « Musiques dels Monts » in the eastern Pyrenees region of France. This festival brings together musicians and composers from different aesthetics trends. It offers a marriage of the genres, and gives artists, composers and audiences an opportunity to dialogue.